Kolektivo Conference 2023
Join Global & local Innovators for an immersive experience & talks about technology, entrepreneurship and impact
Curaçao
This is where
Innovation Meets Impact
We believe innovation is the key to having an impact on the future. This is why we created the leading Innovation conference of Curaçao, Kolektivo Conference! Our events brings innovators, thought leaders & change-makers around the globe together to explore the latest developments in Entrepreneurship, Impact, Technology and innovation.
Join us for two thought provoking days filled with inspiring talks, insightful panels, and interactive workshops. Whether you're an entrepreneur, investor, tech enthusiast, or simply curious about the future, there's something for everyone!
Location: Kura Hulanda Village
Date & Time: 6th of October 2023 – 14:00  – 19:00
                         7th of October 2023 – 14:00  – 19:00
For more information click on the button below.
Date: October 9th, 2023
Time: 18:00
Location: Hendrikplein (designated area)


Organized by: DMO (Downtown management Organization)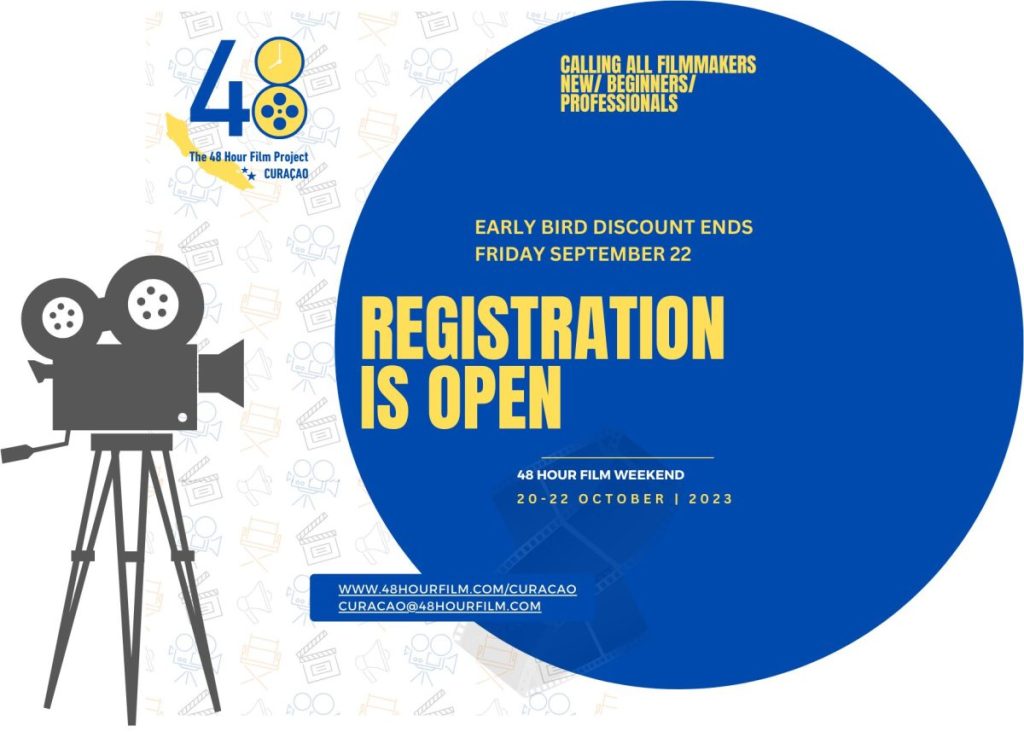 Date: 20th – 22nd October, 2023
Limited spots available. Make sure to have yours booked to take part in this amazing project.
Early Bird Price is only valid until September 22nd 2023.
From Film Weekend Kickoff… to Screening… to Awards…
Gather Teammates – Friends/Colleagues/Family!
Write, shoot and edit a short film based on the genre you draw at The Kickoff and the required character, prop, and line assigned for your city.
Premiere YOUR film!
Celebrate with Awards, including Audience Award.
The winner of Best Film goes to Filmapalooza in March 2024, and is eligible for a spot in our screening at the Cannes Film Festival Short Film Corner!
Try something new, level up your filmmaking, and join our community.
Sign up your team today! Make a movie!
The Future Comes to Curaçao
Date: October 23th, 2023
Location: Renaissance Wind Creek Resort
Time: 19:00

Organized by: Chamber of Commerce & Industry and Proteus Ocean Group
Dress Code: Business Casual
During the Chamber's Business dinner, our esteemed guest speaker, Fabien Cousteau, will present his innovative underwater habitat, Proteus.
This futuristic project is scheduled to launch off the shores of Curaçao in 2026 and is expected to have a profound impact on the future of our planet.
Proteus is a pioneering 'space station' that will serve as a habitat for humans to live, study, and work underwater.
Its significance lies in its potential to revolutionize our understanding of the final frontier that truly matters – the ocean.
Sint Maarten
Date: October 27th & 28th, 2023
Location: University of St. Martin

Time:
27 Oct: 19:00 – 21:00
28 Oct: 09:00 – 18:00
Ticket Type
Price
Cart
Walk Around General - Early Bird
Walk Around SHTA Members - Early Bird
Exhibit General - Early Bird
Exhibit General SHTA Members - Early Bird
Additional Person

$

49,00
Workshop Presenter / Speaker

$

0,00
NGO Presenter

$

0,00
Aruba
Date: October 28th, 2023
Location: Virtual / Online
Time: 2 pm – 5 pm (GMT -4)
Organized by: Soroptimist International Club Aruba
Topics to be discussed: 
– Women & Water and Climate change
– Women & Leadership
– Women & Waste
– Women & Mental Health
– Women & Women Rights
Diversity, Equality & Inclusion Conference 2023
A transformative two-day conference on Diversity, Equity and Inclusion (DEI) in Healthcare, set against the stunning backdrop of the beautiful island of Aruba
Aruba
Date & Time: 17th of November 2023 – 17:00 – 22:00
18th of November 2023 – 09:00 – 17:00
Speakers: Both local and international speakers are invited who will share their knowledge and experiences to improve accessibility and quality of care for various communities within the Dutch Caribbean.
With this conference we want to inspire healthcare professionals and create awareness around the theme of diversity, equity, and inclusion with the aim of improving health equity within our healthcare systems. It is essential but also fundamental in the first step that we first become aware of these differences. This is the most important step towards positively influencing patient health outcomes and academic opportunities for (healthcare) professionals. Together with several speakers, we want to start the dialogue in a safe and open way in order to encourage each other to change.
Click on the button below to buy your ticket(s)
We assist event organizers with several services
Some, but not limited to:
Tickets (online and offline) with unique QR codes
Digitalized Tokens to have your visitors be able to purchase Food & Beverage during your event. This can be 100% OFFline.
If there is internet present, our solution will provide rich data to see how much has been topped up and which Food & Beverage outlet has sold how much of what item.
Administration and reporting for Food and Beverage Vendors and handle their payouts separately within 2 business days after the event.
From Professional Event Planners, to FinTech Entrepreneurs ……At CX Events we are all about Events, Technology and Payments!
From years of experience in the Food & Beverage and Payment sectors (CX Pay) where we developed a cashless solution; it's time to take it to the next step, CX Events! 
Whereby all expertise come together. CX Events is an event solutions, which also includes a ticket service platform, where organizations can promote and sell all kind of tickets via this offering.
We believe that everything in anticipation, during and after an event can be digital, safe and effortless for organizers and their clients. Through our knowledge, innovativeness and experience we will make it possible for event organizers to enjoy the full service of digitalizing of tokens, tickets and scanning entries for their events, as well as deals on specials!  
Take your Event or organization to the next level! And combine the different services and solutions for the best and profitable results. 
Use our platform to sell your tickets – all kind of tickets > Through the expertise of payment technology of CX Pay, who process your payments via a local banking partner, International licensed Local Payment Providor and an Escrow account, where your moneys are safeguarded and settlements occur daily, weekly, monthly or when a threshold has been reached. All with the required industry security standards. 
Use the scanning solution > Through our solution you will be able to scan the tickets for your event easily and fast, this way you minimize the long queues. It also ensures safety at the event and provides insights into data.  
Use the cashless solution > No more physical tokens with our newest solution on your event, instead there will be straps or passes (reusable – sustainable). From a 100% functional with NO internet and if there is an online connection, you be able to see live insights.
There are a lot of advantages: Increase visitor spent, improve visitor experience – faster transactions, shorter queues/lines, less theft and fraud, lower operational costs, etc.,